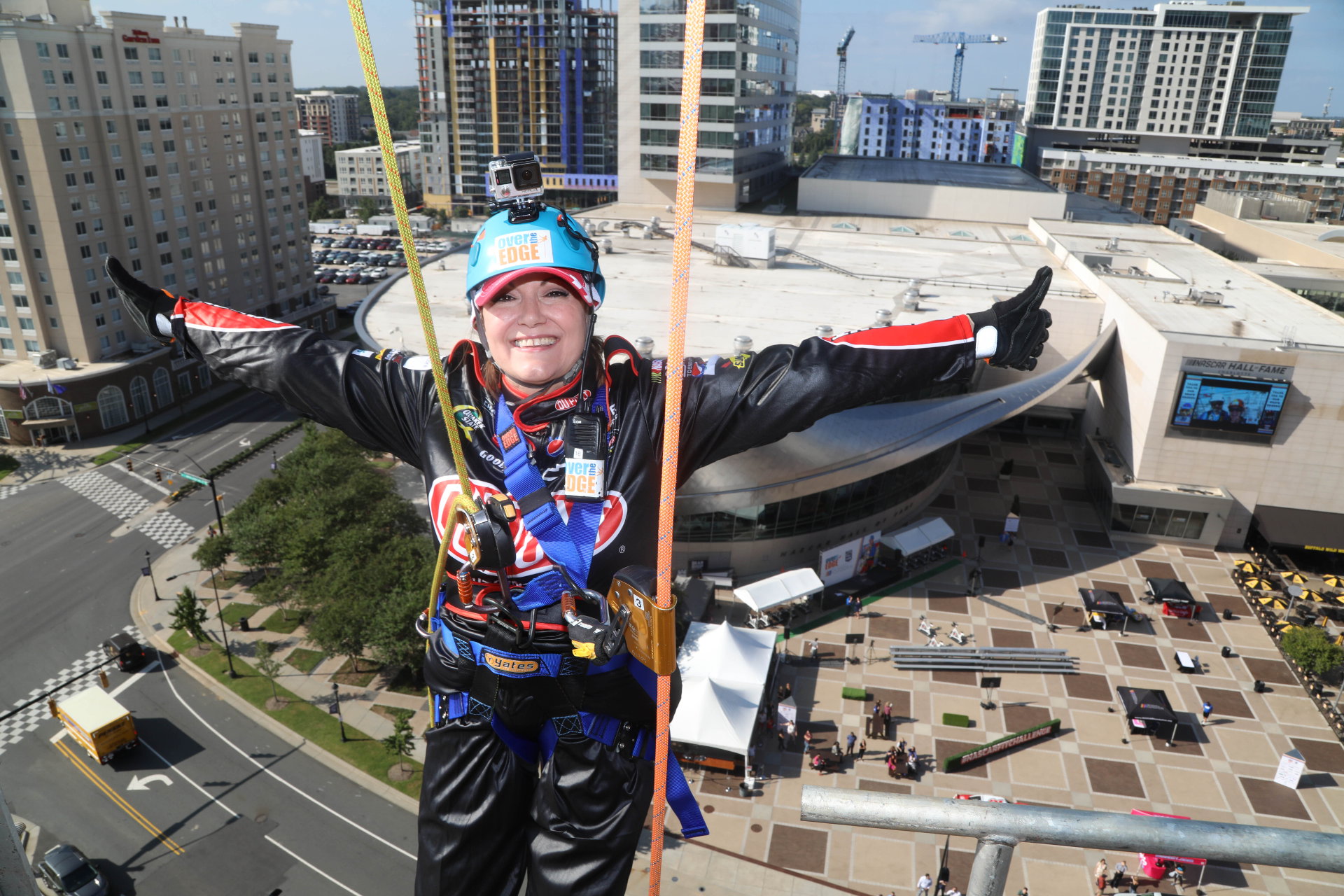 Hear our Rappellers' Stories
Are you nervous about registering for Over The Edge? Not sure you can reach the $1000 goal?

We sat down with one of our edgers Rosalie to learn more about her experience with Over The Edge. See, first hand, what's it's like to fundraise and rappel for a cause despite having a fear of heights.

Meet Rosalie - she's not a dare-devil, she's a paralegal. But Rosalie cares a lot about The NASCAR Foundation and the thousands of kids that The NASCAR Foundation serves each year.

What motivated you to sign up for Over The Edge despite your fear of heights?

Knowing that any donations I collected would have an impact on children served through The NASCAR Foundation, I felt it was a small sacrifice to go Over The Edge of One Daytona. Also, armed with first-hand knowledge of the commitment, accomplishments and continued efforts of The NASCAR Foundation to improve the lives of children, I was compelled to support their efforts, even if it meant facing one of biggest fears.

How did you fundraise in order to reach your goal?

I reached out to my network of contacts and co-workers, posted on Facebook, and I even sold candy bars.

What advice would you give someone who is looking to start fundraising to reach their $1000 goal?

Don't be afraid to think outside of the box. Use social media, have bake sales, candy sales, and reach out to neighbors and companies in your community for donations.

Explain what was going through your head as you were preparing to go Over The Edge on the day of the event.

I can't do this. During my first attempt to go over, I actually walked back onto the ledge. I was terrified. But, I refused to let my fear get the better of me. I kept telling myself that I was doing this to help children who were in need; some of which had much bigger fears and obstacles to face than I was facing at that moment.

How did you feel once you finished your rappelled and conquered your fear of heights?

I was relieved to be back on the ground! Seriously, though, I felt AMAZING! I was so proud of myself for overcoming my fear and accomplishing my goal. The knowledge that I made a difference, no matter how small, was exhilarating and filled me spiritually. So uplifting and energizing.

Now it's your turn! Click here to register and start fundraising today!